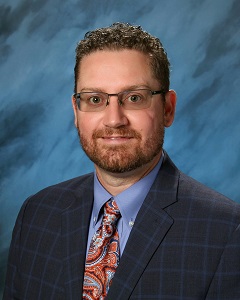 Let me express the gratitude I have for you in choosing San Tan as your school family. The 18/19 school year comes with great excitement as we welcome both Mrs. Errington (Recker Road Campus) and Mrs. Armstrong (Power Road Campus) into their Principal roles. These amazing educators have been working alongside me for the past few years and are ready to lead our schools honoring the family atmosphere we have all come to enjoy and love.
While stepping into the Superintendent role, with offices at both the Recker and Power campuses, you will continue to see me in drive lane, at school and sporting events, and my emails will continue to come. San Tan's growth will include over 1,000 families this fall. My wife Rita and I are humbled knowing that this dream started with just 45 kiddos over a decade ago.
Dr. Kristofer Sippel
CEO & Superintendent
Advantages of Working at our School
Being at San Tan has felt like belonging to a large family from my very first day.
Bachelor's degree in Film & Video, Master's in Special Education
I'm thrilled to be joining a team that values students as individuals and prides itself on providing options for kids.
Master's in Early Childhood Education with a Reading Endorsement, Bachelor's in Elementary Education with a minor in French
San Tan Charter school has such a supportive staff that truly believes in individual level based learning.
BOARD DIRECTORS

 & BOARD MEMBERS
SCHOOL BOARD MEMBERS
Board President
School Board Vice President
Board Secretary
Staff Representative
Parent Representative
Teacher Representative
What Makes us San Tan Charter School