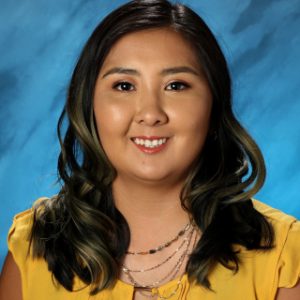 Miyone RoanhorseInterim Athletic Director

Arizona State University
Bachelors of Arts in Education
My Bio
Hello! My name is Miyone Roanhorse and this will be my second year with San Tan Charter School.  My first-year I taught English and also helped with the Varsity girls' basketball program in addition to being an advisor for student council. This year, I am Interim Athletic Director.
I grew up on the Navajo Nation reservation in a small town called Window Rock. I am Native American (Dine/Seminole).  After graduating from my high school, I moved here to the valley of the sun where I attended Mesa Community College while determining what I wanted to do with my life. While attended MCC, I was hired as a tutor for the Salt River Pima-Maricopa Indian Community. This is where I found my passion for working with youth and understanding the impact a teacher can have on a student. I found myself on the path of a Sundevil at Arizona State University as I graduated from the Mary Lou Fulton Teachers college with a Bachelors of Arts in Education. I worked at Salt River High School for 4 years and I was taught English grades 7th – 10th, student council advisor, cross country coach, junior high boys' and girls' basketball coach.
In my free time I can be found near a basketball court or on a trail running. I am a program director and coach for a basketball club program Salt River Ba'ag. When I am not coaching I run in 5K's around the valley with a goal to run a half marathon and one day the Ironman.
Birthday: July 5
--- My Favorite Things ---
Color(s): Purple, Maroon, and Burgandy
Flower(s): Sunflower
Healthy Snack(s):  Sweet potato chips, green apples and yogurt
"Junk Food" Treat(s):  Sweet and Sour kids
Drink(s): hazelnut coffee, fiji water, and sweet tea
Scent(s)/Essential Oil(s): anything with hazelnut or vanilla
Game(s): trivia and word games
Sit-Down Restaurant(s): anything Italian
Fast Food Restaurant(s): chipotle, chick-fil-a, and Canes
Place(s) to Receive a Gift Card: anything towards coffee
Most used school/office supply: colored ballpoint pens, planner, and paperclips
What I would really like is: espresso machine
Heroes: My aunt Lillie
Hobbies: basketball, running, and weight lifting.